With gabfests dominating television, the pecking order
has changed — in journalism as well as in political parties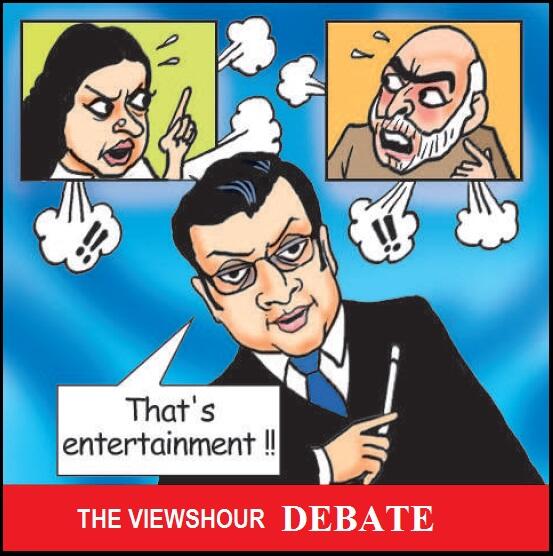 Sopan Joshi   [ Published Sunday Times of India on January 5, 2014 ]
The legend of Pheidippides has idealized the messenger for long. The courier in ancient Greece ran about 42 km (26 miles) from the Battle of Marathon to Athens to deliver the message of victory —"Nike"—and died of exhaustion immediately after. The legend is inaccurate; more realistic estimates say the man who inspired the modern marathon ran 450 km over 10 days to deliver messages asking for reinforcements.
Many a young reporter has been given the Pheidippides spiel from pep-talking editors: "Get the story, if it kills you." If Pheidippides were to be reborn and get a job in the media today, he'll have little use as a messenger—perhaps he'll have to acquire gravitas, and then transform himself as a talking head. For the media business today is less about delivering the news and more about the live TV debate.
It's not difficult to fathom why. Generating original news content for TV, as anyone in the business will tell you, is very expensive. Live debates are cheap. They also provide a lot of tension and drama; ideal for luring viewers who have been reared on a diet of entertainment.

RISE OF THE GUEST CO-ORDINATOR
This means hard times for TV reporters. The news agency ANI provides bytes across channels, and deprives reporters of the chance to do some ambush journalism. Social media has deprived them of their big advantage over print: speed. Print reporters have the time and luxury to provide perspective. Even that traditional strength of the reporter—a fat phonebook—is not exclusive. Another section of the TV newsroom now has equally thick phonebooks: the guest coordinators (GCs).
For years, the juniormost members of the newroom got the job of guest coordination. It was a thankless task. One had to work the phone lines all day, be looked down upon by the "real" journalists, and get no credit even if one did the job well. That has changed with the domination of the live debates. The skills of a good GC are appreciated. GCs sit in on important editorial meetings ; they get raises, and successful ones get offers from competitors. At a time when news bureaus are facing depopulation, news channels are recruiting GCs (hot tip for all you mass communications aspirants).
Politicians who wish to get on the air now stay in touch with GCs, who have "access" . There is talk of politicians obliging GCs, in ways that people are obliged in Delhi. Finally, GCs are getting their due, even if it is at the cost of the reporters. GCs are aware that when they work the phones, political careers are at their fingertips . Because the rise of the live debate has empowered a political niche: the spokespersons.
OB VANS: THE NEW STATUS SYMBOL
The 24×7 world of spokespersons is a promising shortcut in politics today, because the political parties themselves are in a constant state of response to the media. This is not new; politics and media is an old alliance, and many of the leaders of our struggle for independence were journalists. But political parties did not have to get up in the morning and chalk out daily media tactics before. There are leaders at the top of our polity today whose core strength includes media management. When you go to meet them, you have to share their attention with a TV set, remote in hand.
For political aspirants, this is low-hanging fruit. If one has the personality and the skills to cut it, one does not have to take the painstaking route of elections—first municipal and university elections, then assembly, then Lok Sabha. Now, an OB van parked outside the house is a mark of making it. If several OB vans are lined up, even better. If they are blocking the neighbours, well, it's in national interest. If the neighbours happen to be other politicians in Lutyens' Delhi, nothing better than the chaos of OB vans around your house. For politicians love nothing more than appearing on live TV, and then have acolytes calling up to congratulate them.
There are about 800 TV channels in all languages in India; about 300 claim to broadcast some form of current affairs. Half of them actually have some kind of viewership, and half of those are taken seriously. A BJP leader who used to appear on English channels is believed to have started calling Hindi channels for appearances after losing the 2009 Lok Sabha elections from a constituency in the Hindi heartland. He now graces the Rajya Sabha and Hindi news channels. In the Congress circles, one appears on English channels if one's target audience is the High Command. When one has to appeal to voters, then channels in Indian languages are visited.
"The media units of political parties have become TV-centric ," says a BJP functionary who is in on the goings-on . "It is the new Lutyens' Zone, the new charmed circle. It is shaped by the corridors of power and it shapes the corridors in return. Because the channels have their studios in Delhi, they look for articulate, TV-friendly spokespersons based in Delhi. Their political experience is not very relevant."
Some politicians have mastered the ANI trick. Since the news agency feeds all the channels, they give it a byte early in the morning on a 'slow news day' . That ensures their mug and their words become the talking point in the first half. Another advantage of dealing with ANI: it does not ask questions. One gets to make one's statement, uncontested.
LAW AND BEHOLD
Later in the evening, when the contest heats up on the live debate, the lawyers are summoned. With a majority of channels beaming from Delhi, Supreme Court lawyers are a natural choice. A bulk of the spokespersons comprises lawyers. While lawyers in politics are as old as M K Gandhi, Jawaharlal Nehru and B R Ambedkar, the tactical use of legal training in political debate is relatively new.
While several spokespersons, successful ones at that, are not practising lawyers, the legalisation of political debate is all too obvious. Not that it is entirely a bad thing. "The presence of lawyers has brought greater detail and nuance to debates," says a veteran political correspondent. Lawyer-spokespersons go to great lengths to clarify that they appear for their political work, not legal experience, although they acknowledge that legal training helps.
Lawyers, though, are trained to argue from a brief, not from belief, says a BJP leader who is not a lawyer. "If you were to take a lawyer from one party to another, he is likely to argue as efficiently from the other side," he adds. TV anchors—and , by extension, the viewers get to feel like judges, hearing lawyers from either side argue their case. One well-known anchor actually asks spokespersons to complete their arguments.
The changing economics of the media is changing the nature of the political debate on TV. It is highly unlikely that this will impact elections, but it is changing journalism. There is little demand for reporters willing to run the marathon to deliver the message.
---
---
Categories: Media